My Business Partners: Larissa Klimanova – Certified Floral Designer – Greenviron Group
April 13th, 2013
Posted By: Elena Stepanenko
 Let me introduce you my business partner – Larissa Klimanova – Certified Floral Designer – Greenviron Group

[stextbox id="info" mleft="0″ mright="0″ mtop=0″ mbottom="0″ image="null" caption="
Larissa Klimanova – Certified Floral Designer – Greenviron Group
:
Greenviron Group specializes in elegant European floral design, brining you custom flower arrangements for weddings and special occasions in Calgary. Our experienced staff has over 20 years of floral design experience what helped us earn the highest reviews from our clients.
Click on the arrow to see more details…" collapsing="true" collapsed="false" float="false" align="left" width="240″ color="000000″ ccolor="000000″ bcolor="2B3438″ bgcolor="ffffff" cbgcolor="ffffff"]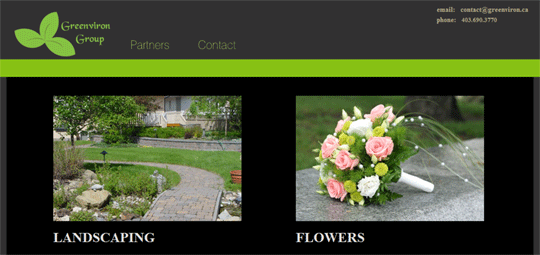 We operate as a floral design studio by appointment only.
We serve both corporate and private clients, bringing a unique touch to every occasion. Our custom floral designs are created using the highest quality flowers from reputable wholesalers. Let us make your next event even more memorable.
We help our clients to realize their floral vision in every occasion:
Weddings
Private Parties
Corporate Events
Interior Decoration
Christmas Decoration
Greenviron Group promises to inspire you with the most unique flower arrangements, exciting variety and quality of flowers, our attention to detail, and personable approach to every client.
For your convenience the payments can be made with cash, cheque, or credit card via PayPal. Payment with PayPal is easy and secure; once your order is placed you will receive an invoice with details on how to process the payment. We will send a confirmation letter with receipt once the payment is complete.
Larissa Klimanova, Certified Floral Designer.
We are excited to have Larissa as a lead designer in our company. She constantly strives to maintain the highest standards in floristry and to support out reputation of a company with innovative designs. Larissa Klimanova has over 15 years of floral design experience, specializing in European and Japanese floral design styles.
Visit the website: http://www.greenviron.ca[/stextbox]