Calgary Real Estate Board: Calgary Bucks National Trend
September 5th, 2012
Posted By: Elena Stepanenko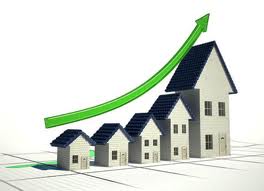 Double digit year-over-year sales growth demonstrates differences between city and national trends.
Calgary, August 1, 2012 – Calgary continues to buck national housing sale trends. The 1,936 residential units sold in July represent a 21.3-per-cent increase over 2011.
"Recent mortgage rule changes prompted much discussion of a national housing correction. While the two largest cities (Vancouver and Toronto) have started to witness declines in home sales activity, Calgary continues to record improvingsales and prices," says Ann-Marie Lurie, Chief Economist for CREB® (Calgary Real Estate Board).
"The gains were supported from the economic growth in the region," Lurie says. "Last year, Alberta led the country in economic growth and – with Calgary being the energy capital of the country – the city has benefited from growth in full-time employment, migration and overall improved confidence."
[stextbox id="info" mleft="10″ mright="0″ mtop="10″ mbottom="10″ caption="
CREB® (Calgary Real Estate Board)
" collapsing="false" collapsed="false" float="true" align="right" width="240″ color="000000″ ccolor="000000″ bcolor="2B3438″ bgcolor="ffffff" cbgcolor="CDD5D4″]
CREB® is a professional body of more than 5,200 licensed brokers and registered associates, representing 247 member offices. CREB® is dedicated to enhancing the value, integrity and expertise of its REALTOR® members. Our REALTORS® are committed to a high standard of professional conduct, ongoing education, and a strict Code of Ethics and standards of business practice.
[/stextbox] Year-to-date City of Calgary sales totaled 13,684, a 16.5-percent increase over the same time in 2011. Other sectors within the city limits have also recorded significant growth. The single-family market recorded the largest gains at 18.9 per cent, while the condominium apartment posted a 9.4-per-cent rise year-to-date.
"The housing growth positions us with sales activity that is more consistent with long-term trends, of which we significantly fell short of since the recession," says Bob Jablonski, President of CREB®. "Consumers have been cautious of the housing market coming out of the recession, but housing sales have improved  considerably, driven by home prices that are still below peak, favourable interest rates and bullish forecasts on the local economy,."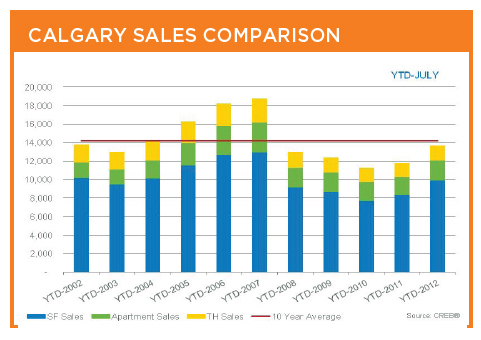 Consumers have delayed adding listings to the market, and, as a result, there are 7.5 per cent fewer single family listings and 3.1 per cent fewer condominium apartment listings, compared to this July 2011. July sales activity showed seasonal slowing over June's level, providing some relief on the balance between supply and demand. Citywide months of supply trended upwards towards 3 months.
With tighter mortgage rules and tighter supply, consumers planning on "moving up" may be forced to revaluate what is within their budget. This may cause some homeowners to delay listing their homes, contributing to the diminished number of listings. However, if supply levels remain low, this will encourage consumers to turn toward the new home market.
Single family inventory levels were 3,646 units in June, nearly 20-per-cent lower than supply levels recorded in 2011.
Lower inventory, combined with increased sales, has resulted in stronger-than-anticipated price gains.
The single family benchmark price reached $432,400 in July, a 7.8-per-cent increase over 2011, but on average only 5 per cent higher on a year-to-date basis. The increase in price has narrowed the variance from the peak of the market, but a 4-percent price gap remains.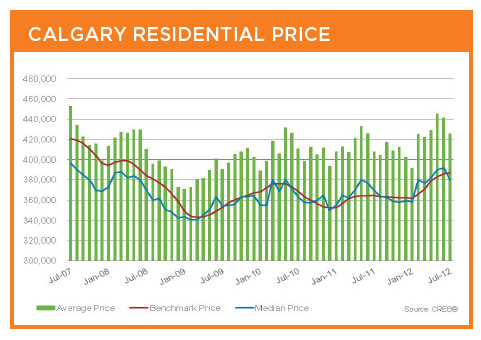 Both the condominium apartment and townhouse market recorded year-over-year benchmark price gains of 2 per cent in July, for respective prices of $247,600 and $277,400.
"While the economic risks continue to weigh on the market, many consumers continue to see employment opportunities in the city," says Lurie.
"They have a better sense of job security and are taking advantage of a stable housing market."