Calgary Real Estate Board: Calgary Housing Market Does Not Show Signs Of Slowing
November 13th, 2012
Posted By: Elena Stepanenko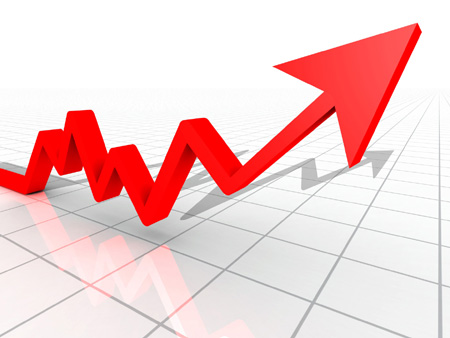 Year-over-year sales growth remains in double digit territory.
Calgary, November 1, 2012 – City of Calgary sales activity marked a 23-per-cent increase over levels recorded in October 2011. The continued improvement in sales has pushed year-to-date sales activity to nearly 16-per-cent above levels recorded in 2011. "Relative to national trends, we continue to move in the opposite direction, recording both sales and price growth," said Bob Jablonski, CREB® (Calgary Real Estate Board) President. "However, despite the higher than anticipated sales growth this year our market is not overheating, simply returning to levels consistent with long term trends and prices still have not fully recovered after the last recession."
Sales improved over 2011 levels across all housing types in the city. Single family sales growth has been the strongest, with nearly 17-per-cent more year-to-date sales this year compared to last year. Meanwhile, apartment condominium sales have been rising at a slower pace, with year-to-date sales nearly 12-per-cent higher than last year.
[stextbox id="info" mleft="10″ mright="0″ mtop="10″ mbottom="10″ caption="
CREB® (Calgary Real Estate Board)
" collapsing="false" collapsed="false" float="true" align="right" width="240″ color="000000″ ccolor="000000″ bcolor="2B3438″ bgcolor="ffffff" cbgcolor="CDD5D4″]
CREB® is a professional body of more than 5,200 licensed brokers and registered associates, representing 247 member offices. CREB® is dedicated to enhancing the value, integrity and expertise of its REALTOR® members. Our REALTORS® are committed to a high standard of professional conduct, ongoing education, and a strict Code of Ethics and standards of business practice.
[/stextbox] New listings within city limits totaled 2,312 for the month, a 9-per-cent decline over October 2011 levels. The decline in new listings relative to sales has continued to reduce total inventory levels across all sectors However because this is 9-per-cent decline over October 2011 levels. The decline in new listings relative to sales has continued to reduce total inventory levels across all sectors. However, because this is a less active period in real estate, the months of supply remains within balanced levels.
The strong demand for homes relative to the supply levels has caused some significant increases in the price of single family homes this year compared to 2011. As of October 2012, the benchmark price for a single family home was $433,300, an 8-per-cent increase over the previous year. While there has been significant recovery in Calgary home prices, typical unadjusted home prices have leveled off remaining relatively unchanged over the past 4 months, and remain below the highs recorded in 2007.
Condominium apartments recorded a benchmark price of $247,000 in October 2012, losing some ground over the previous month, but still higher than the previous year by 3 per cent. While on average condominium apartment prices have fallen more than risen since 2007, condominium prices this year have recovered to levels comparable to 2010.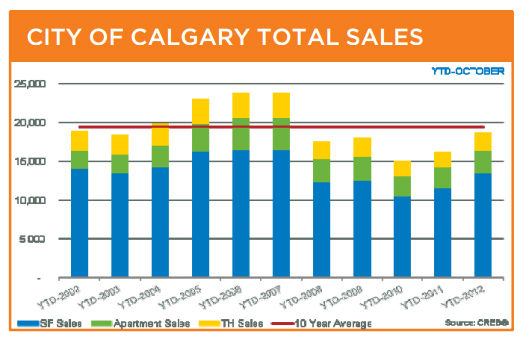 After the first 10 months of the year condominium townhouse sales totaled 2,279, 16-per-cent higher than last year. The benchmark price for a townhouse in October was $279,000, a 3-per-cent improvement over October 2011. "At the end of last year, the Calgary economy was growing and continued to post job growth," said Ann-Marie Lurie, CREB®'s chief economist. "However, global economic uncertainty was increasing, impacting overall consumer confidence and contributing to a significant amount of caution in the resale market.
"While many of these global economic risks remain this year, consumers' concern regarding the impact on our economy has lessened. Calgary has continued to record
relatively strong economic, employment and migration growth. This combined with improving affordability has encouraged consumers to purchasing real estate in Calgary."