Calgary Real Estate Board: City Growth Slows While Town Sales Continue To Soar
September 6th, 2012
Posted By: Elena Stepanenko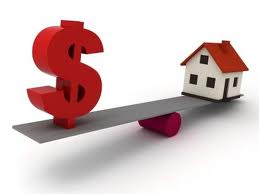 Residential sales in the city and surrounding towns record respective gains of 10 and 42 per cent.
Calgary, September 4, 2012 – Following several months of CREB® TOWNS YTD TOTAL SALES higher than expected sales growth, Calgary residential sales in August totaled 1,725 units, a 10-per-cent increase over last year. "While the sales grow remains strong, it is slower than previous five months in part due to the lack of new listings in the City's single family market," said Bob Jablonski, CREB® (Calgary Real Estate Board) President. "With fewer products to choose from, many consumers are holding off on transacting or turning to surrounding towns, the new home market and condominiums."
 New listings within the City of Calgary total 2,585 units in August, down 13 per cent from one year ago and down more than four per cent on a year-to-date basis.  Meanwhile, new listings in the surrounding towns have improved by nearly 10 per cent after the first eight months of this year.
[stextbox id="info" mleft="10″ mright="0″ mtop="10″ mbottom="10″ caption="
CREB® (Calgary Real Estate Board)
" collapsing="false" collapsed="false" float="true" align="right" width="240″ color="000000″ ccolor="000000″ bcolor="2B3438″ bgcolor="ffffff" cbgcolor="CDD5D4″]
CREB® is a professional body of more than 5,200 licensed brokers and registered associates, representing 247 member offices. CREB® is dedicated to enhancing the value, integrity and expertise of its REALTOR® members. Our REALTORS® are committed to a high standard of professional conduct, ongoing education, and a strict Code of Ethics and standards of business practice.
[/stextbox] "Improving choice, affordable prices, combined with lifestyle factors and the lack of choice in the single family market within city limits, have driven sales growth in towns surrounding the city," said Jabslonski. "In general, the area has witnessed sales activity that is comparable to peak sales activity."
Single family sales totaled 1,169 in August 2012, six per cent above levels recorded in 2011. Meanwhile, new listings declined by 14 per cent on a year-over-year basis over the same time frame. This year, demand has far outpaced new additions to supply in the single-family market, causing a significant depletion of standing inventories. However, the recent decline in sales growth helped ease the pressure on the market, as months of supply have risen to levels more consistent with balanced territory.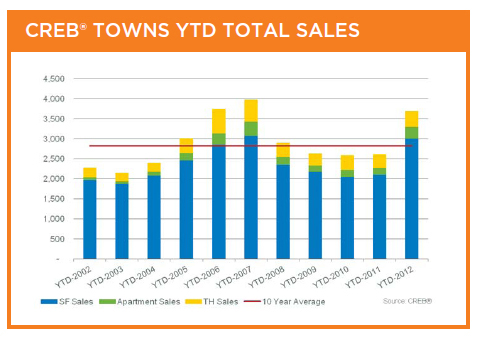 While sales growth activity did cool, the upward price pressure on single family homes will not likely ease until the fall. As of August, the benchmark price for a single family home was $432,600, an eight-per-cent increase over August 2011 levels. The increase may seem significant, but the prices have leveled off compared to the previous month and remain nearly $20,000 below peak levels recorded in July 2007.
August sales in both condominium apartment and townhouse units recorded year-over-year growth that outpaced the single family market. Year-to-date apartment sales have improved by nearly 10 per cent over 2011, while the level of new listings remained at levels similar to last year. The improvement in sales relative to new listings has helped reduce the elevated inventory levels, keeping this market in balanced territory.
The benchmark price of a condominium apartment for the month of August was $248,700, a 3.6-per-cent increase over the previous year. Meanwhile townhouse style condominiums had a monthly benchmark price of $278,200, only a 2.5-per-cent increase. While the upward momentum is a signal of continued recovery in the condominium market, the benchmark price for  condominiums remains nearly 16 per cent below peak levels.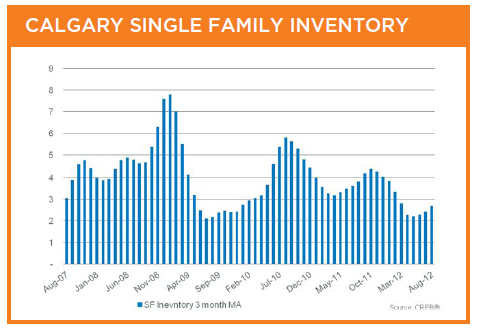 "Some continue to foresee a scenario where price declines are looming in the local housing market,
especially given national trends," said Ann-Marie Lurie, CREB® Chief Economist. "There is no question
economic concerns can threaten our housing recovery. However, to date Calgary housing market consumers are exhibiting confidence evidenced through the pickup in sales activity across all housing types.
"The rapid sales growth caused supply levels to drop, particularly in the single family market, resulting in price gains. While we anticipate recent movements in the single family resale market will take some pressure off the higher-than-expected price growth, another city wide price correction is not expected given current economic growth expectations combined with one of the best affordability climates in the country."