My Business Partners: Lucy Valdman – Lady Bug Creative Landscape & Design
April 15th, 2013
Posted By: Elena Stepanenko
Let me introduce you my business partner – Lady Bug Creative Landscape & Design

[stextbox id="info" mleft="0″ mright="0″ mtop=0″ mbottom="0″ image="null" caption="Lucy Valdman: Welcome to Lady Bug Creative Landscape & Design in Calgary:
We are family owned and operated full service landscaping company with more than 15 years experience. We work for Calgary clients since 2004. We have since added some new services: decorative concrete curbing and ice rink installation (natural, refrigerated and synthetic ice rinks).
Click on the arrow to see more details…" collapsing="true" collapsed="false" float="false" align="left" width="240″ color="000000″ ccolor="000000″ bcolor="2B3438″
bgcolor="ffffff" cbgcolor="ffffff"]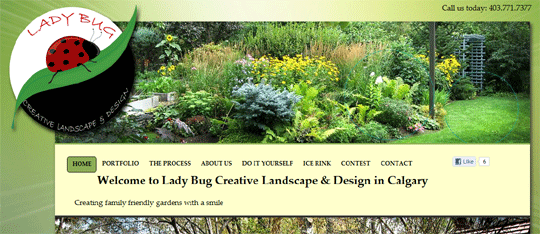 LANDSCAPE DESIGN:
Including garden design for kids and people with special needs.
LANDSCAPING:
Lawn installation, plant installation, tree planting and transplanting, hardscape construction (walkways, retaining walls, fences, patios, decks, arbors, etc.). Irrigation systems, ponds and waterfalls.
GARDENING:
Lawn care (mowing and edging, fertilizing, pest control, weeding, aerating, renovating, overseeding), plant care (pruning and hedge trimming, fertilizing, pest control, weeding, replanting, mulching), tree care (pruning, fertilizing, pest control ~usually for smaller trees only), general cleanup, composting.
Lady Bug Creative Landscape & Design
143 Parkland Green S.E.
Calgary (AB) ~ T2J 3X6
Phone: 403.771.7377 or Email 
Visit the website: http://www.ladybug-landscape-design.com[/stextbox]